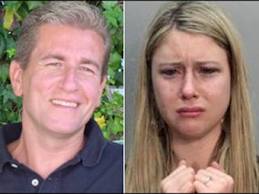 Miami Beach police say Tomica was driving at "excessive speed" when she plowed into Riccioletti, who was walking to work, in the early morning on Jan. 28.
The impact was so violent that her car was severely damaged, covered in skull fragments and brain matter, prosecutor Warren Eth told the judge Friday. A nearby street barricade "was painted in blood," he said.
Tomica refused to stop, instead driving several miles to her 17th-floor condo even as a good Samaritan followed and tried to get her to stop. Police arrested her at the condo.
She refused to take a breathalyzer test at the scene, Eth said, and she later fell asleep on a chair at the Miami Beach police station, snoring loudly. In her purse, detectives found another woman's drivers license they believe Tomica used to buy liquor.
Tomica was initially arrested for leaving the scene of an accident involving a fatality. This week, toxicology reports confirmed what investigators had suspected: Tomica was drunk. Two hours after the crash, her blood alcohol content was a staggering .225, three times the legal limit.Defense lawyer Mark Shapiro argued against the raised bond, saying Tomica was not a danger to the community and would be living with her parents and attending college in Port St. Lucie.
Prosecutors filed formal charges of DUI manslaughter, leaving the scene of an accident involving a death, resisting arrest without violence and DUI property damage. She pleaded not guilty.
The judge also ordered Tomica to stay on house arrest with a GPS ankle monitor. She must also stay away from bars, night clubs and alcohol.
Riccioletti's relatives are suing Tomica and the Nikki Beach hotel and resort, which employed her as a bartender.